Washington, D.C. is de hoofdstad van de Verenigde Staten van Amerika. De stad heeft een ongeëvenaard aantal gratis musea en het grootste deel van de monumenten en gedenktekens van het land. Het zicht op National Mall tussen het Capitool, Washington Monument, het Witte Huis en het Lincoln Memorial is wereldberoemd. Washington, D.C. heeft zijn vroegere reputatie van saaie, gevaarlijke stad afgeschud en is nu een bruisende metropool.
National Mall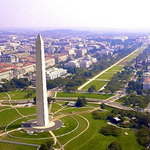 Er is geen enkele plaats in Amerika waar je meer geschiedenis krijgt voor je geld dan in National Mall – logisch, gezien twee van de bekendste monumenten (Lincoln en Jefferson Memorial) op munten zijn gedrukt. Het park strekt zich uit over een kleine 2 mijl en bevat ook nog het Washington Monument, Vietnam Veterans Memorial, het nieuwe Martin Luther King Jr. Memorial en het Smithsonian Instituut. Dit alles is gratis te bezoeken. Zelfs als politiek je niet interesseert, kan je vast je gading vinden in het Smithsonian, of het nu het astronauten ijs in de gift shop van het National Air and Space Museum, of de 45 karaat Hope Diamond in het Natural History Museum.
Foto tip: Het beste uitzicht op National Mall heb je in de bar van het W Hotel (515 15th St, NW).
The White House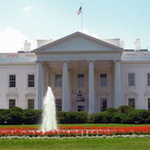 Het Witte Huis is de officiële verblijfplaats en werkplek van de president van de VS. Het huis werd ontworpen door van origine Ierse James Hoban, en werd gebouwd tussen 1792 en 1800 uit witgeverfde zandsteen, in neo-klassieke stijl. Het was de woning van elke president sinds John Adams. Vandaag beslaagt het complex de woning van de president, de West Wing, Cabinet Room, Roosevelt Room, East Wing, en het Eisenhower Executive Office Building. 1600 Pennsylvania Ave NW, Washington, DC 20500
Thomas Jefferson Memorial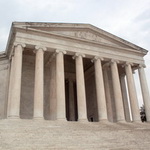 Het Jefferson Memorial en het Witte Huis, recht ten noorden ervan, vormen 2 van de belangrijkste ankerpunten in de omgeving van de National Mall. Binnen staat een 5,8 m hoog bronzen beeld van Jefferson dat uitkijkt op het Witte Huis. Het interieur is gegraveerd met stukken uit de boeken van Jefferson. 900 Ohio Dr SW, Washington, DC 2024
United States Capitol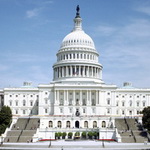 Het Capitool behoort tot de meest imposante en symbolische gebouwen ter wereld. De Senaat en het Huis van Vertegenwoordigers komen hier al meer dan 2 eeuwen samen. Het U.S. Capitol Visitor Center is het nieuwste deel van het historische complex. Het bezoekerscentrum is zeer groot, ongeveer drie-kwart van de grootte van het Capitool zelf. East Capitol Street, NE and 1st Street, NE, Washington, DC 20004