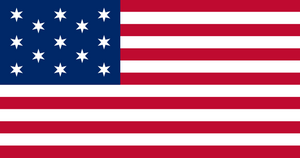 De vlag van de Verenigde Staten, ook wel 'Stars and Stripes' of 'Star-Spangled Banner' genoemd, is ontstaan op 14 juni 1777. In de loop van het bestaan van de VS heeft de vlag wel verschillende wijzigingen doorgemaakt. In een resolutie werd het eerste ontwerp van de nieuwe vlag vastgelegd.

"Resolved, that the flag of the United States be thirteen stripes, alternate red and white; that the union be thirteen stars, white in a blue fied representing a new constellation."
De Amerikaanse vlag zou dus bestaan uit 13 strepen, afwisselend rood en wit, en 13 sterren, wit in een blauw veld. Het getal 13 verwijst naar de 13 Britse kolonies de onafhankelijkheid van Groot Brittanie uitriepen.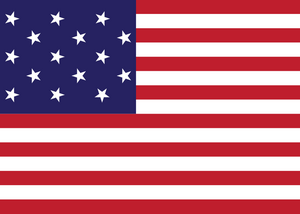 Toen 2 nieuwe staten bij de unie kwamen (Kentucky en Vermont), werd een nieuwe resolutie aangenomen om de vlag uit te breiden naar 15 sterren en 15 strepen. Deze vlag werd gebruikt tot in 1818. Aangezien er tegen dat jaar al 20 staten bij de unie waren aangesloten, en de vlag veel te druk zou worden met een streep en ster voor elke staat in de unie, besliste het congress dat de vlag 13 strepen zou tellen (verwijzend naar de 13 kolonies die de unie hebben gesticht) en 20 sterren. Er werd aan toegevoegd dat er voor elke staat die bij de unie kwam een ster aan het blauwe veld zou worden toegevoegd. Hiermee werd het ontwerp van de vlag vastgelegd, maar werd er ruimte voorzien om symbool te zijn van een groeiende natie.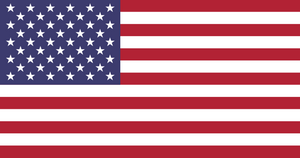 Uiteindelijk resulteerde de groei van het land in een vlag met 48 sterren na de toetreding van Arizona en New Mexico in 1912. Alaska voegde een 49ste ster toe in 1959. De huidige vlag, met 50 sterren, ontstond toen Hawaii in 1960 de 50ste staat van de Verenigde Staten van Amerika werd.
Pledge of Allegiance
"I PLEDGE ALLEGIANCE TO THE FLAG OF
THE UNITED STATES OF AMERICA AND TO THE
REPUBLIC FOR WHICH IT STANDS, ONE NATION
UNDER GOD, INDIVISIBLE, WITH LIBERTY AND
JUSTICE FOR ALL."
De Pledge of Allegiance, of Belofte van Trouw, werd officieel op 22 juni 1942, hoewel de tekst voor het eerst werd gepubliceerd in 1892, ter ere van de 400ste verjaardag van de ontdekking van Amerika. Hij werd voor het eerst gebruikt in publieke scholen bij de viering van Columbus Day op 12 oktober 1892.
The Star-Spangled Banner
'The Star-Spangled Banner' is het volkslied van de Verenigde Staten van Amerika. De tekst komt uit "Defence of Fort McHenry, een gedicht geschreven in 1814 door Francis Scott Key, na het bombardement van Fort McHenry door de Britse Marine.
Het gedicht werd op de melodie van het Britse lied 'The Anacreontic Song' gezet en werd 'The Star-Spangled Banner' genoemd.
0 say! can you see, by the dawn's early light,
What so proudly we hail'd at the twilight's last gleaming?
Whose broad stripes and bright stars, thro' the perilous fight,
O'er the ramparts we watched were so gallantly streaming?
And the rockets' red glare, the bombs bursting in air,
gave proof thro' the night that our flag was still there.
0 say! does that Star-Spangled Banner yet wave
0'er the land of the free and the home of the brave?

On the shore, dimly seen thro' the mist of the deep,

Where the foe's haughty host in dread silence reposes,
What is that which the breeze, o'er the towering steep,
As it fitfully blows, half conceals, half discloses?
Now it catches the gleam of the morning's first beam,
In full glory reflected now shines in the stream.
'Tis the Star-Spangled Banner. 0 long may it wave
O'er the land of the free and the home of the brave.

And where is that band who so vauntingly swore,

That the havoc of war and the battle's confusion
A home and a country should leave us no more?
Their blood has wash'd out their foul footstep's pollution.
No refuge could save the hireling and slave
From the terror of flight or the gloom of the grave,
And the Star-Spangled Banner in triumph doth wave
0'er the land of the free and the home of the brave.

O thus be it ever when freemen shall stand

Between their lov'd home and war's desolation,
Blest with vict'ry and peace, may the Heav'n-rescued land
Praise the pow'r that hath made and preserv'd us a nation.
Then conquer we must, when our cause it is just,
And this be our motto, 'In God is Our Trust.'
And the Star-Spangled Banner in triumph shall wave
O'er the land of the free and the home of the brave.