Bestemmingen: New York, Las Vegas, Grand Canyon Village, Flagstaff, Window Rock, Blanding, Moab, Bryce Canyon Village
Bezienswaardigheden: Vrijheidsbeeld, 9/11 Memorial and Museum, Empire State Building, Brooklyn Bridge, Central Park, Las Vegas Strip, Hoover Dam, Grand Canyon National Park, Arches National Park, Bryce Canyon National Park
Wie: Jelle Collignon en Heidi Willekens
Staat: New York, Nevada, Arizona, New Mexico, Utah
Jaar: Juli 2014
Dag 1: 17 juli 2014 – Brussel – Newark – New York
Om 10 uur moest ons groot avontuur beginnen, want dan stegen we normaal op. Maar de extra veiligheidscheck stak daar een stokje voor. Een familie uit Somalië werd extra grondig gecontroleerd, aangezien zij uit een risicoland kwamen. Uiteindelijk zijn we met 30 minuutjes vertraging vertrokken.
Ook United Airlines zetten we op het lijstje van goede vliegtuigmaatschappijen. (Al blijft Delta op nummer 1 staan!) Voorlopig niets om over te klagen!
Veilig geland en dan snel naar de bagage claim om te hopen dat onze valiezen er bij zijn. De hartjes sloegen al wat sneller aangezien er plots een andere vlucht op onze bagageband verscheen. Maar we hadden 's morgens vroeg ingecheckt dus de valiezen kwamen er bij de laatste uit. Oef! De vakantie kan nu echt beginnen!
We zijn niet geland op JFK, maar wel op Newark (New Jersey). Dit wilde zeggen dat het nog een heel eindje rijden was (30minuten) voor we bij ons hotel, Hotel Beacon, aankwamen. Uiteindelijk hadden we besloten om met de gekende gele taxi's naar ons hotel te rijden en niet met de trein-metro.
Een supervriendelijke chauffeur, maar zeker geen watje op de weg! Hij reed alsof zijn leven er vanaf hing! Al snel maakten we kennis met New York City: file! We hebben 25 minuten stilgestaan of amper kunnen verder rijden in een tunnel.
Na 45 minuten waren we bij ons hotel aangekomen. Meteen werden onze valiezen naar binnen gedragen door de portier die al gretig stond te wachten op zijn fooi. Vriendelijke mensen van het hotel en een mooie kamer met zelfs een klein keukentje eraan.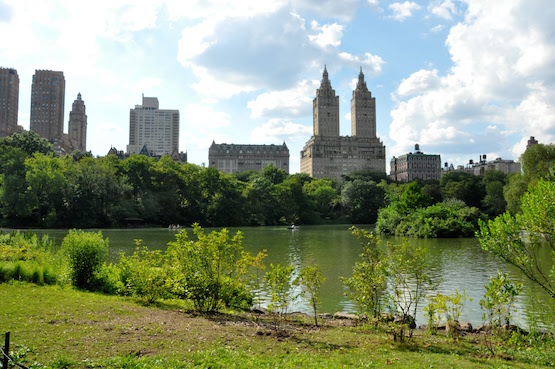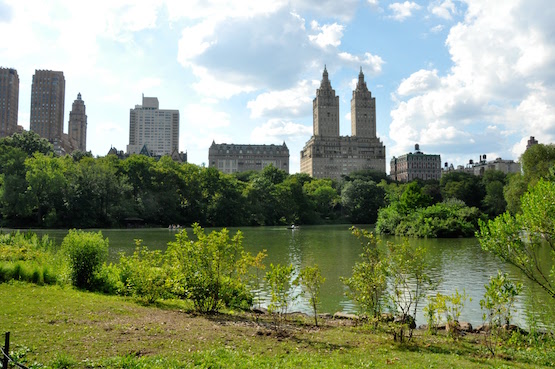 De valiezen dropten we snel op de kamer om dan de eerste stapjes in de stad te zetten. We gingen naar Central Park Zoo. Viel dit eventjes tegen… Buiten wat papegaaien, sneeuwaapjes, een rode panda en wat zeeleeuwen was er niets te bespeuren in de zoo. Dit uitje was dus snel afgelopen. Daarna zijn we in Central Park naar Bethesda Terrace And Fountain gaan kijken. Een grote fontein met enorm wat mensen rond.
In Central Park was het gezellig druk: straatartiesten die de mensen boeiden, schilderijen die je kon kopen of een karikatuur van je gezicht laten tekenen etc. … Zwervers zijn hier ook zeker van de partij, maar eentje sprong toch in het oog. Hij verdient zijn centjes door moppen te vertellen. Als je hem 1 dollar geeft, vertelt hij 1 mop. Moet je niet lachen met de mop, dan krijg je je geld terug. Origineel toch? Daarna hebben we nog wat rondgewandeld in Central Park zelf.
Uiteindelijk gingen we ons eerste avondmaal verorberen. We kozen voor Dallas BBQ. De eerste burger was een feit. Maar we kregen ook een grote aardappel met schil aan die op de BBQ geroosterd was.
Tot slot, zijn we nog naar het metrostation geweest om onze Metropas te gaan kopen, zodat we onbeperkt de metro kunnen nemen zolang we hier zijn. Vervolgens zijn we ook nog naar de lokale supermarkt, Fairway, gegaan om de nodige voorraad water in te slaan.
Vandaag op tijd ons bedje in, want morgen wordt de drukste dag met onder andere Top of The Rock, New York Library, show van Aladdin (om 20.00uur) etc. …