Bestemmingen: Seattle, Olympia, Sunnyside, Spokane, Kalispell, Missoula, Cody, Idaho Falls, Salt Lake City, Page, Springdale, Las Vegas
Bezienswaardigheden: Space Needle (Seattle), Olympic National Park, Mount Rainier National Park, Palouse Falls State Park, Kootenai Falls, Glacier National Park, Yellowstone National Park, Craters of the Moon National Monument, Temple Square (Salt Lake City), Cedar Breaks National Monument, Antelope Canyon, Zion National Park, Fremont Street (Las Vegas), The Strip (Las Vegas)
​Wie: Jelle Collignon en Heidi Willekens
Staat: Washington, Idaho, Montana, Wyoming, Utah, Arizona, Nevada
Jaar: Juli 2017
16/07/2017 – Vertrek naar Seattle
Onze trip startte heel vlot op Schiphol. We vertrokken hier ipv in Brussel omdat Delta rechtstreeks van Amsterdam naar Seattle vliegt. Hierdoor zouden we al om 14u in Seattle landen en zouden we nog wat dingen kunnen bezoeken op de eerste dag.
Zoals gewoonlijk was de service van Delta weer dik in orde. Eens we op kruishoogte zaten, kregen we al een middagmaal geserveerd. We konden kiezen tussen cocos kip met rijst, tortellini met kaas of een slaatje. En we kregen er nog een chocomousje bovenop. Halfweg de vlucht kregen we nog een snackbox met crackers, dipsaus en een chocolade gebakje. Net voor de landing volgde er nog een snack. Nu was het een warme wrap met gehakt en tomatensaus.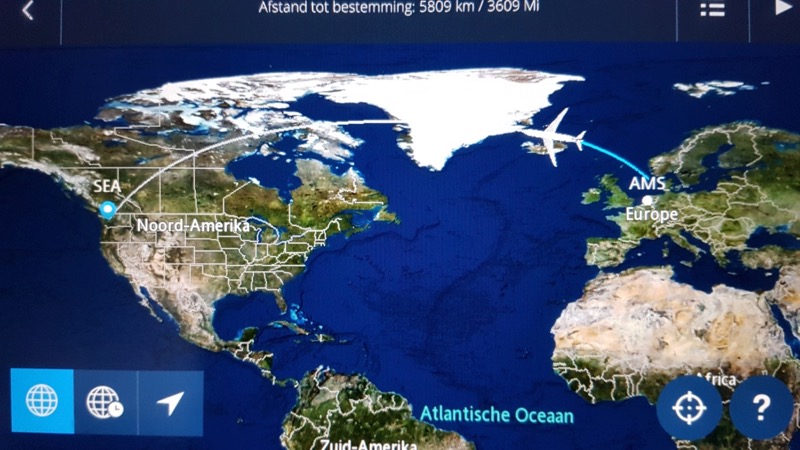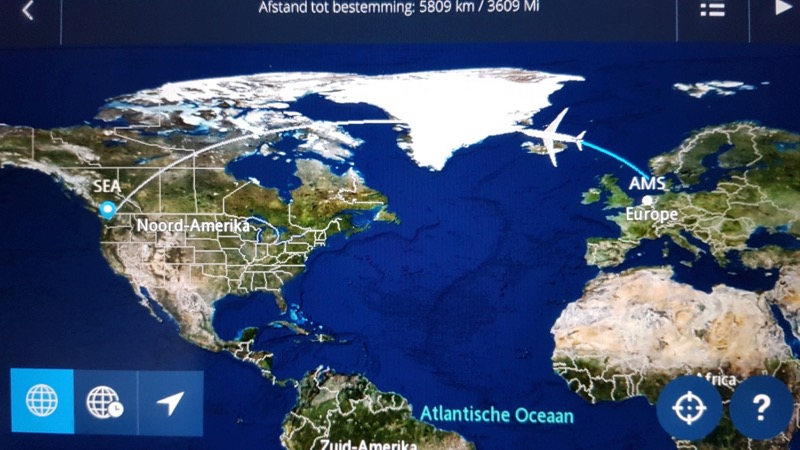 Tot de landing in Seattle ging alles vlot. MAAR… De wachtrij bij de grenscontrole was zo groot dat we eerst al een half uur moesten wachten in de gang net nadat we uit het vliegtuig kwamen. Eindelijk konden we doorlopen naar de controle. Maar hier stonden nog honderden mensen te wachten. Toen we hier even stonden aan te schuiven, hoorden we dat mensen een andere rij mochten nemen omdat ze eerder al via een ESTA hadden gereisd. Dit geldt ook voor ons, dus hebben we ons ook bij de andere rij aangesloten. Hier kon je zelf al een groot deel van de controle doen, zoals vingerafdrukken en een foto nemen. We moesten toch sowieso nog langs een agent passeren, dus gingen we weer aanschuiven. Deze rij was veel korter dan die waar we eerst in stonden, maar ze ging helemaal niet vooruit. We hebben zelfs 25 minuten gewoon stil gestaan. Toen we een agente vroegen hoe dit kwam, zei ze dat er computer problemen waren.. Gelukkig waren deze problemen even daarna opgelost en kwam er weer beweging in de rij! We zijn uiteindelijk na bijna 2u wachten voorbij de grenscontrole geraakt.
We hebben dan snel onze bagage opgepikt en hebben de bus naar het car rental center genomen om de auto op te halen. Ook hier was het weer wachten.. Toen we onze auto mochten gaan uitkiezen, bleek er niet veel keuze meer te zijn. Er stond nog een Hyundai Sonata en 3 Nissan Altima's. We hebben gekozen voor een zilvergrijze Nissan Altima.
Normaal zouden we in de namiddag het Museum of Flight bezoeken, maar aangezien het door de vele vertragingen ondertussen al 17u gepasseerd was, zijn we maar recht naar het hotel gereden. We verbleven in het Mayflower Park Hotel in het centrum van Seattle. We leverden de auto af bij de valet parking en checkten in. Daarna hebben we bij Walgreens water, wat te snoepen en ontbijt voor de dag erna gekocht. Eten deden wij bij Buffalo Wild Wings net om de hoek bij het hotel.