Bestemmingen: Chicago, Springfield (Illinois), St. Louis, Springfield (Missouri), Branson, Oklahoma City, Amarillo, Santa Fe, Albuquerque, Holbrook, Needles, Anaheim, Los Angeles
Bezienswaardigheden: Willis Tower, Magnificent Mile, Shedd Aquarium, Trump Tower, Lou Mitchell's, Joliet Prison, Lincoln Memorial, Chain of Rocks Bridge, Gateway Arch, Cozy Dog Drive In, Silver Dollar City, Big Texan Steak Ranch, Cadillac Ranch, Palo Duro Canyon State Park, Los Alamos, Bandelier National Monument, El Morro National Monument, Seligman, Oatman, Disneyland, Santa Monica
Wie: Jelle Collignon en Heidi Willekens
Staat: Illinois, Missouri, Kansas, Oklahoma, Texas, New Mexico, Arizona, California
Jaar: Juli 2015
Dag 1: Brussel – JFK (New York) – Chicago (Illinois): 16 juli 2015
In de voormiddag vertrokken we in Brussel richting Chicago. We hadden een overstap in New York JFK. Hier was het MEGA DRUK! Gelukkig hadden we genoeg tijd en waren we al eens eerder in de VS geweest, waardoor we een groot deel van de rij mochten overslaan. De eerste vlucht vlogen we Economy Plus en was de bediening van Delta weer schitterend. De vlucht van New York naar Chicago vlogen we met een klein vliegtuig, met slechts 4 passagiers naast elkaar.
Eenmaal geland op Chicago O'Hare namen we een taxi naar het hotel.
Dag 2: Chicago (Illinois): 17 juli 2015
Onze eerste volledige dag in de USA zit erop. Gisterenavond waren we in Chicago aangekomen in het hotel Holiday Inn Chicago Mart Plaza. Een mooi en aangenaam hotel! Het regende en het was koud. Deze morgen hadden we ons dus niet te licht aangekleed om de stad te verkennen. Was dat een vergissing! Het was om 9 uur 's morgens al 27 graden met een hoge luchtvochtigheid. Echt plakweer.
Aangezien we door het tijdsverschil van 7 uur al om 6 uur wakker waren, zijn we vroeg kunnen vertrekken naar Lou Mitchell's voor het ontbijt. De Route 66 diner zat om 8 uur bijna helemaal vol. We konden nog een plaatsje krijgen en konden smullen van Banana Pancakes en een Belgium Bacon Waffle! Een stevig ontbijt voor een drukke dag.


Om 9 uur stonden we aan de deur van Willis Tower voor een bezoek aan het Skydeck op de 103de verdieping. Het uitzicht vanop de meer dan 430m hoge toren is indrukwekkend, maar toch minder spectaculair dan het Empire State Building of Top of the Rock in New York. Een angstaanjagend hoogtepunt van het bezoek was de Ledge. Een glazen platform dat uit het gebouw steekt, waardoor je recht naar beneden kan kijken. Niets voor mensen met hoogtevrees.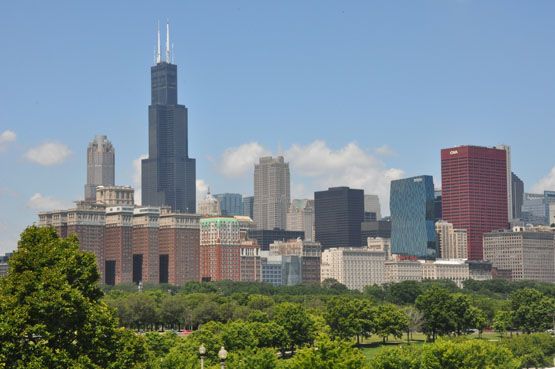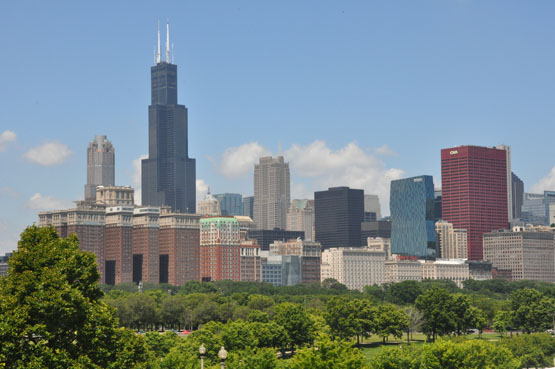 Daarna trokken we naar Adams Street, waar de start van Route 66 ligt. Na een foto bij het startbord gingen we te voet verder richting Shedd Aquarium. Onderweg stopten we nog bij Buckingham Fountain. Deze gigantische fontein is vooral bekend door de generiek van Married, With Children.
Shedd Aquarium viel een beetje tegen. Het zijn knappe tentoonstellingen, maar het was er ongelooflijk druk en we hadden meer grote dieren verwacht. Het Adler Planetarium was een pak rustiger, en ook veel interessanter!
Genoeg educatieve bezoeken voor 1 dag, nu was het aan de terrasjes en winkeltjes. We namen de bus naar Navy Pier. Op deze heel lange pier zijn er verschillende restaurants en cafés.
Voor het avondeten gingen we naar het Rainforest Café. Dit is echt een traditie geworden. We hebben ons wel nog steeds niet durven wagen aan de Volcano, een decadent dessert van ijs, brownies en chocoladesaus.