Who: Jelle Collignon and Heidi Willekens
States: Illinois, Missouri, Kansas, Oklahoma, Texas, New Mexico, Arizona, California
When: Juli 2015
Destinations: Chicago, Springfield (Illinois), St. Louis, Springfield (Missouri), Branson, Oklahoma City, Amarillo, Santa Fe, Albuquerque, Holbrook, Needles, Anaheim, Los Angeles
Sights: Willis Tower, Magnificent Mile, Shedd Aquarium, Trump Tower, Lou Mitchell's, Joliet Prison, Lincoln Memorial, Chain of Rocks Bridge, Gateway Arch, Cozy Dog Drive In, Silver Dollar City, Big Texan Steak Ranch, Cadillac Ranch, Palo Duro Canyon State Park, Los Alamos, Bandelier National Monument, El Morro National Monument, Seligman, Oatman, Disneyland, Santa Monica
Day 1: Brussels – JFK (New York) – Chicago (Illinois)
We flew from Brussels to Chicago, with a layover in New York JFK. It was very busy at JFK! Luckily we had already visited the USA before, so we were allowed to skip the lines and head to the self-service kiosks instead of passing by a Border Control officer. On the flight to JFK we were in Economy Plus on a large plane and the service of Delta Airlines was excellent. The flight to Chicago was a little different. It was a very small plane, with just 4 seats per row.
Once landed in Chicago O'Hare we took a cap to our hotel, Holiday Inn Chicago Mart Plaza, which is very nice.
Day 2: Chicago (Illinois)
When we arrived yesterday it was raining and quite cold, but today was a hot day. At 9am temperatures were already reaching 27°C with a high humidity.
We woke up early at 6am due to the time difference of 7 hours with Belgium. Ideal because we were going to have breakfast at Lou Mitchell's. We arrived at this authentic Route 66 diner at 8am and we were just in time. There were only a few tables left. Heidi tried the Banana Pancakes and Jelle ate a Belgium Bacon Waffle. After all these calories we walked to Willis Tower.

At 9am we were at the entrance of Willis Tower to visit the Skydeck on the 103th floor. The view of Chicago at 430m above ground level is amazing, but less spectacular than the view of New York on top of the Empire State Building or Top of the Rock. The main attraction of Skydeck is 'The Ledge', where you can stand on a platform with a glass floor, 430m in the air. Frightful!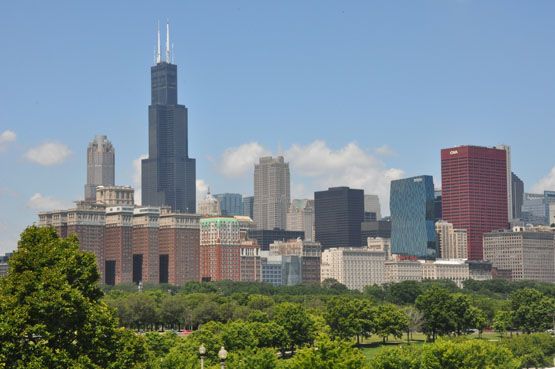 We took the L-train to Adams Street, the starting point of Route 66. We took some photos and continued on foot. We passed Buckingham Fountain while going to Shedd Aquarium. This enormous fountain is world-famous due to the intro of Married, With Children.
Shedd Aquarium was a little dissapointing. There are some good exhibits, but is was very busy and we expected to see more large animals. We also visited the Adler Planetarium, a lot more interesting and less busy!
Enough education in 1 day, time for shopping and a drink in the sun! We took a bus to Navy Pier. On this very long pier there are a lot of shops and café's.
It is already a tradition, if there is a Rainforest Café in town, we have dinner there. We did pass for the Volcano, a very high calorie dessert with ice cream, brownies and chocolate sauce.
Day 3: Chicago (Illinois)
We had breakfast at a local coffee-shop and left for a walk in the city center. We saw the Thomson Center, the Chicago Theatre and even a parade for the recording of a tv-commercial. We also went to Macy's. After 1h30 of shopping we continued our walk to Millennium Park. Here we could admire ourselves in Cloud Gate, an enormous, shiny bean.
From Millennium Park we crossed the DuSable Bridge to go to the Magnificant Mile. This is a very busy street with lots of shops and restaurant. After a quick lunch we ended up in a second Macy's store with a large shopping mall next to it.
At a small church we saw a couple that was getting married. A little further Heidi saw the shop of her dreams: Hershey's Chocolate World!
When we were almost back at the beginning of the Magnificent Mile a thunderstorm broke loose. Rain poured down, lightning illuminated the city and thunder echoed between the skyscrapers. Luckily everything was over in half an hour. On the way back to the hotel we made reservations for dinner at a Mexican restaurant.
After a little rest at the hotel we went for dinner where we had tapas.